events
AVP Academy Okanagan: Summer 2020 COVID-19 Protocols
Unfortunately due to Covid-19 Protocols, in-person AVP Academy training has been postponed until we get a grasp of the Covid-19 situation. While everyone is still social distancing now is your chance to sign up to the Academy's Online Training Platform!!
Click Here To Sign Up Now
AVP Academy Okanagan: August 20th 2019 - Sarah Pavan
2016 Olympian, 2019 Beach Volleyball World Champion and 2020 Olympian Sarah Pavan was in Kelowna to help fire up our grand opening where she shared her vast knowledge and love for the game with our Okanagan volleyball community!!
Sarah Pavan, and her husband Adam Schulz, along with a few of the top coaches in the Okanagan, ran both an outdoor and indoor youth volleyball skills clinic for our local athletes. We couldn't have been more excited to host such a rare event.
Beach Volleyball Clinic.
Date: August 20th 2019
Location: Okanagan College Sand Courts, 1000 K.L.O Road, Kelowna BC
One Session: 9am-2pm  Cost is $45
Each Session Cost: $45 or Combine Both Indoor and Beach for only: $80
Indoor Volleyball Clinic.
Date: August 21st 2019
Location: Immaculata Regional High School, 1493 K.L.O. Road, Kelowna BC
One Session: 9am-2pm  Cost $45
Each Session Cost: $45 or Combine Both Indoor and Beach for only: $80
Fee for both sessions includes a 1 year membership to the AVP! ($20US Value)
*If you sign up for both clinics then we will sign you up for an AVP membership for free if you are not already a member. You do not have to be a member of the AVP in order to participate in this opening event.
No Walk-Ups :  Players must be pre-registered in order to participate in these sessions/clinics.
Signing up as a single is just fine! You do not need a partner to participate.
Please do contact us if you have any questions or concerns.
Sarah Pavan and Adam Schulz
Not only is Sarah one of the best beach volleyball players in the world, she is also a professional indoor volleyball player and has played for several clubs all over the world.
Sarah is also a chief executive member of Next Lvl Consulting where she specializes in NCAA recruiting consulting and support for young athletes and their families. Sarah provides mentor-ship services to athletes and coaches to enhance their development to reach their goals.
Sarah was accompanied by her husband Adam Schulz. Adam is a former Ontario Provincial team athlete and alumni of McMaster university where he competed for 5 years under coach Dave Preston, helping turn the program into a perennial national contender.  Adam decided to share extensive skill and his love for the game with others by moving into coaching. Adam became head of the Ontario provincial team, assistant coach at the university of Waterloo and technical director of Niagara Rapids volleyball club.
Professionally Adam started as volunteer data volley analyst with the Champions League Italian team Villa Cortese. This translated into the head Analyst and assistance coach position with the Canadian women's Indoor national team leading in the 2012 Olympics.  Adam also had the pleasure of being a volunteer assistant for the professional Brazilian women's team Unilever where he learned from Brazilian National team legend Bernardo Rezende. Following that year Adam was the assistant coach for the RJX men's professional team in Rio under head coach Marcelo Fronckowiak.
For the past 5 years Adam's focus has turned to beach volleyball where he is the assistant coach and data analyst for the top Canadian Women's team of Pavan/Humana. Adam works with a custom beach statistics program he created to help bring a data support approach to technical training and competition. Adam also coached the US professional team of Reeves/Howard helping them achieve their best ever results in the 2018 season.
Sarah shared what she has learned over the years from her current coach (AVP Academy Master Coach) - Scott Davenport.
Testimonial: Sarah Pavan
"The AVP Academy teaching method took me from being a 100% indoor volleyball player to a beach volleyball Olympian, FIVB Best Blocker, and #1 ranked team in the world. The technical and tactical explanations presented by the Academy are easy to understand and execute, whether you have extensive beach experience, or are making the transition with indoor knowledge. I have been fortunate enough to incorporate all of the AVPA offerings into my daily training environment, including sports psych and nutrition, and I wouldn't trust anyone else to help me reach my goal of Olympic Gold."
Sarah Pavan - 2016/2020 Olympian / FIVB World Tour Top Player
AVP Academy Beach Clinic (August 20th 2019)
AVP Academy Indoor Clinic (August 21st 2019)
Photos coming soon!!
special info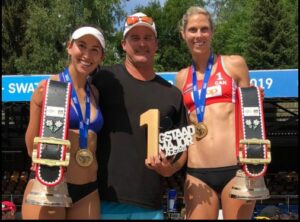 Congrats to Sarah and Mel and their coach Scott Davenport on winning the 2019 World Championship.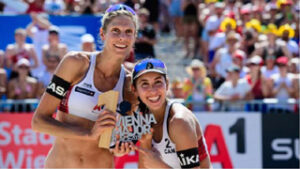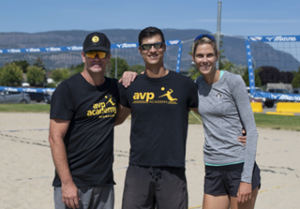 Euan Robertson - Adam Schulz - Sarah Pavan